Well known is the history of MS-DOS, started at Seattle Computer Products with 86-DOS, ongoing 'til MS-DOS 6.22, the last version without Windows.
With Windows 95, a new MS-DOS was integrated also, at least still as a base for 16-bit file and device access. Windows 95B (OEM release 2) was the first Windows which offered FAT32 compatibility, and so the underlaying MS-DOS 7.

Although it was a late debut, others started to develop their own version of DOS, too. Well known is FreeDOS, which is still under (slow) development.
But there was also a small russian company PhysTechSoft which started with a very fast DOS version, called PTS-DOS. Later, some employees of this company founded Paragon Software Group, which continued to offer PTS-DOS, the latest version was PTS-DOS 32.

There was also a DEMO version of PTS-DOS 2000 (this version can emulate DOS 6.22), which has a (very annoying) boot delay, but this is the only limitation.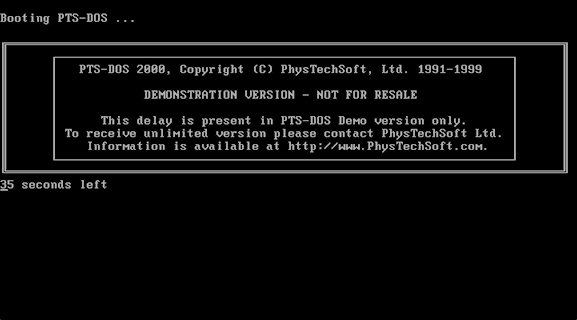 This can be easily patched, so there will be no time delay anymore.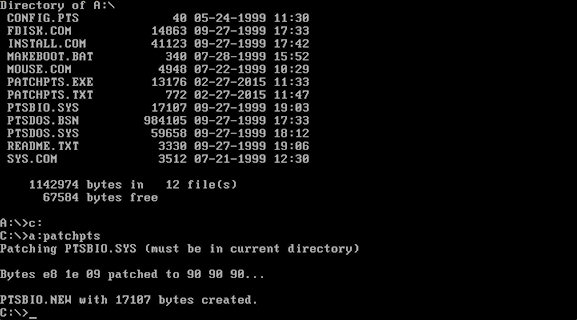 and then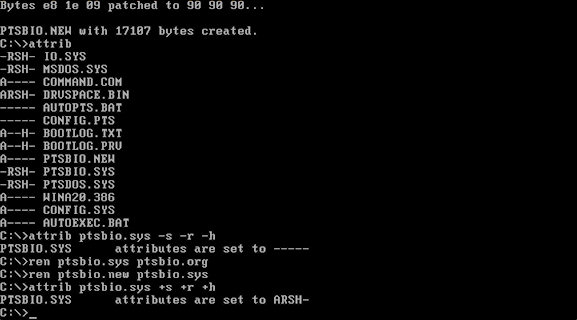 The DEMO of PTS-DOS 2000 can be downloaded >here< and also >locally mirrored<. This DEMO was offered also by Paragon, but meanwhile PTS-DOS hasn't any commercial significance, so they stopped this offer.

The "patch program" is only available >here< (locally mirrored, too). It works for the english version, but if you wish, I can adapt it for the german version, too.

This is how the the start screen looks like: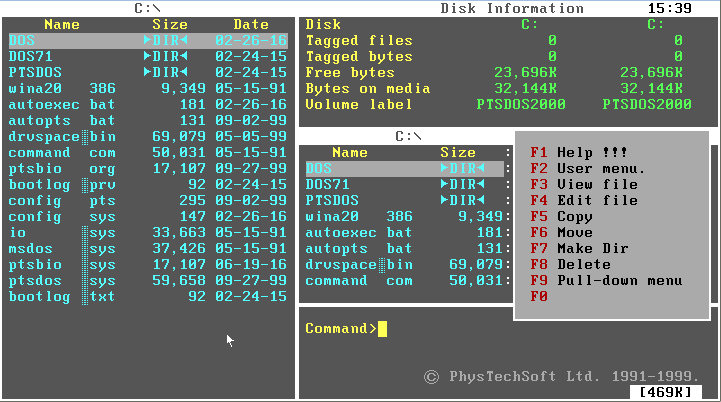 PTS-DOS has a very sophisticated DEBUG command (with a GUI !).

PTS-DOS can use UMB, but you have to use an undocumented but useful CONFIG.PTS option "UMBSRV":

UMBSRV = INTERNAL 85C471
UMBSRV = INTERNAL SIS471
UMBSRV = INTERNAL UM82C491
UMBSRV = INTERNAL UMC491
UMBSRV = INTERNAL W83C491
UMBSRV = INTERNAL WINBOND491
or
UMBSRV = EXTERNAL
(to use QEMM or similar products like UMB_DRVR)
Also, there is a boot manager build in. Check also almnet.de for a PTS-DOS FAQ.
For an overview of all config commands (and more), look into the manual.

<This page is not finished yet.>
---